About Fontster
Fontster is a tool to browse and preview installed fonts, probably a simplest tool of its kind: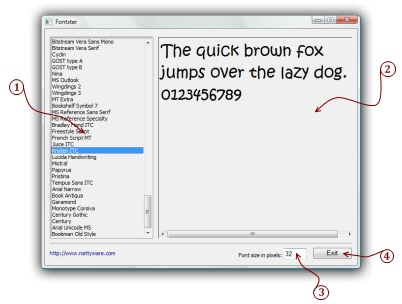 The list of the installed fonts; scroll it to select a font for preview
The font preview area. Click it to edit and enter any sample text you like
Use this field to adjust a sample text font size
Click this button to exit from Fontster

Help on Fontster
‹
About Fontster
•
License
See also:
© 1999 – 2023 Nattyware. All rights reserved.
All trademarks, service marks and logos displayed and used at this site are the property of their respective owners.